Smart says Nick Chubb is "ready to come bursting out" at some point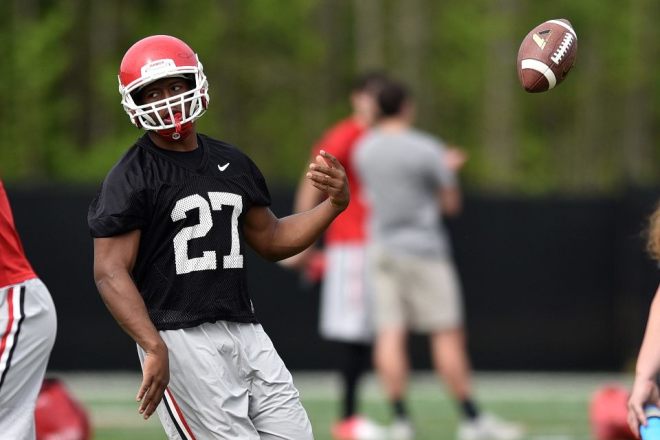 MACON, Ga. – It seems that Georgia director of Sports Medicine Ron Courson has been sending head coach Kirby Smart a lot of texts lately.
But Smart certainly doesn't mind.
Wednesday night during an alumni function at the Walnut Creek Shooting Preserve, Smart said the reason Courson is popping off texts is to show Smart videos of the progress being made by running back Nick Chubb.
"Courson is constantly sending me videos of the progress," Smart said. "When he does, each time I get the video, I make it a point to text Chubb saying 'I see your working. I see what you're doing.' He wants to be recognized for what he's doing. He's busing his tail. He's living the silent life right now. He's ready to come bursting out at the first opportunity. When that's going to be? I don't know."
But Smart has his fingers crossed.
While the Bulldog head coach said he's not an expert on knee injuries, he's seeing a lot of positive signs, although he has no idea if he will be ready for the season-opener in the Georgia Dome against North Carolina.
During the spring, Chubb – who rushed for 747 yards before his injury last October at Tennessee - took part in run polish drills and was able to do some cutting without his knee brace toward the end of practice.
Chubb's also been a leader off the field.
"He's a kid who has taken the first initiative to call out other kids who aren't working out. When you start to get that, you start to get change," Smart said. "It doesn't need to be me telling kids the need to work out. It's needs to be him and he's taken on that role now and it's hard to do that when you're on the sideline. But he's taken ownership of a couple of guys and I've been really pleased by that."