Dawgs land 4-star, MVP wide receiver Trey Blount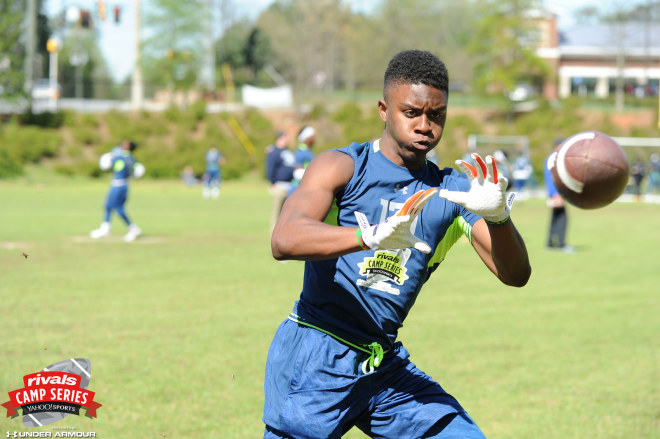 When Georgia fans woke up on Sunday, most of them thought the football team would be gaining a coveted wide receiver -- and the Bulldogs have, but for the Class of 2017, not 2016.
Four-star wide receiver Trey Blount (Atlanta/Pace Academy) has made his silent commitment to Georgia into a public one.
"I have been silently committed to Georgia for a while now, since the Wednesday after G-Day," Blount told UGASports. "It has been amazing talking with Coach [James] Coley because he is so excited and fired up about the new addition to the family."
Coley is the Bulldogs wide receivers coach. He and the recent SEC record setting crowd for Georgia's spring game have made quite the impression.
"The reasons I committed to Georgia were experiencing G-Day and all the new energy from the coaching staff and the electrifying crowd," Blount said. "Also seeing Jacob Eason throw and what he can do over the next two or three years... and I wanted to be a part of that."
Blount joins Xavier Jenkins as the second commitment at wide receiver for the Class of 2017.
"The class they signed in 2016 and the ones they will sign in 2017 and 2018, those are match-up problems," Blount said. "We can bring back something special. And what can be better than bringing back a national championship to the home state?"
The 6-foot-2 receiver, who recently won the Wide Receiver MVP award at the Rivals Camp Series in Atlanta, has been linked to the Bulldogs in recent weeks, and now it is official.
Seeing how likable Blount is with the other recruits in the state of Georgia, he will now play the role of recruiter for the offensive side of the ball. Much like how Richard LeCounte and William Poole are leading the charge on the defensive side of the ball.
"Whatever Georgia wants, we are going to go out there and get it for them," Blount said. "We are going to be active on Twitter, messages, Snapchat, just whichever way we can get them or however we need to get them we are going to do it. We are going to go by the rules, of course, but we are going to go after them hard."
Blount won't have to go far to start his first recruiting pitch, either. Andrew Thomas, who the Bulldogs have extremely high on their board at offensive tackle, goes to school with Blount at Pace Academy, as does Class of 2018 offensive lineman, Jamaree Salyer.
"I am going to be his main recruiter," Blount said. "I see him every day, and we have classes together. Everything he is going to be seeing from here on out will be Georgia. I am going to be on him with Georgia this, Georgia that then just recruiting him very hard so we can all go to Georgia. He is already my big man at Pace, but I want to make him my Big Dawg moving forward.
"Also Jamaree Sayler in the 2018 class, I want us all to go to Georgia and make a bang and keep a Pace to Georgia dynasty going on."
Blount is the ninth commit for the Bulldogs in the Class of 2017, with all them being from the state of Georgia.
"This was just the best fit for me," Blount said. "I have just been talking with Coach Coley and he is fired up and he wants me to get it out there as soon as possible so I chose today. It was a great day and nothing better than that great feeling after you leave church and just being a positive day so I just wanted to keep the positivity going on.
"I am a Dawg! Go Dawgs, Sic Em'"