Fearless offensive predictions sure to go wrong: Or will they?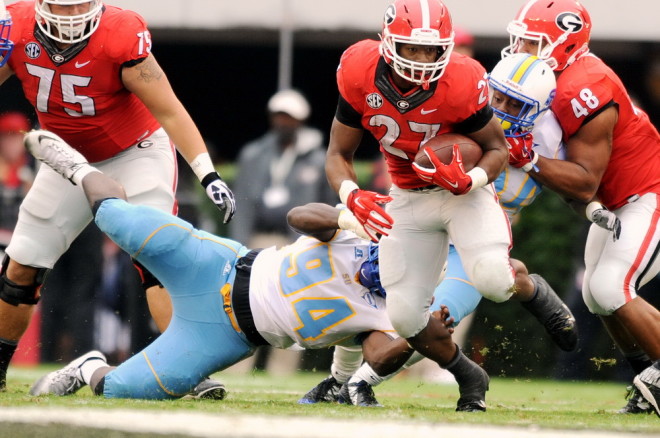 Predictions... you've got to love them.
But isn't that part of what makes college football fun?
Between now and the start of the Sept. 3 opener against North Carolina in the Georgia Dome, you're going to see all sorts of predictions involving the Bulldogs, from what the season record will be to what bowl game Georgia will ultimately play.
While it's doubtful that even Karnack the Magnificent could nail either of those 100 percent, it's still fun to look ahead and wonder what will ultimately happen this fall.
So, to keep in the spirit, we thought we'd make some predictions of our own. Will all of them come true? Probably not. But hey, let's give it a shot.
Today, we'll look at the offense as it pertains to 2016.
So here we go – my predictions sure to go wrong.
• Greyson Lambert will start at quarterback against the Tar Heels but Jacob Eason will play in the game and take over the starting job by Week 4 at Ole Miss.
• Nick Chubb will not start against North Carolina. He'll play, but only get four or five carries as coaches will remain very cautious with him to start the year.
• Sony Michel will surpass the 1,000 yard mark for the second straight year. While he will come close, Chubb won't quite reach 1,000 yards but will surpass 1,000 yards in total offense.
• After catching just 28 passes between them, Georgia's tight ends will triple that number with Jeb Blazevich, Isaac Nauta and Charlie Woerner catching at least 20 balls. Bulldog tight ends will also contribute at least 10 touchdowns.
• Terry Godwin will lead the Bulldogs in receptions, say 50 or so, but sophomore Jayson Stanley and freshman Riley Ridley will finish second and third, respectively
• Tyler Catalina will win the battle to become the team's left starting left tackle. That will push Isaiah Wynn to left guard, with Brandon Kublanow at center, Dyshon Sims at right guard and Greg Pyke at right tackle. Freshman Ben Cleveland will work at second team left guard but will push for a starting job – probably at right guard – before the year is complete.
• Georgia will finish top three in the SEC in total offense.
• For the second time in his career, Isaiah McKenzie will return a punt and a kickoff for the touchdown in the same game.
• Walk-on kicker Mitchell Wasson will handle field goals and extra points for the Bulldogs, with Rodrigo Blankenship handling the kickoffs.