Georgia to add walk-on lineman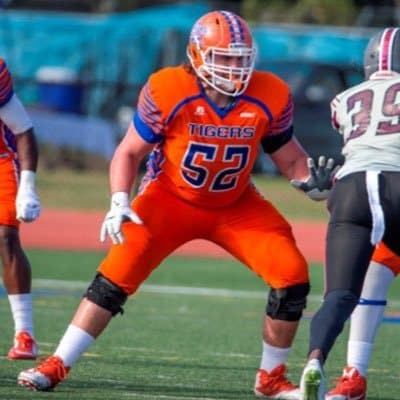 The Georgia program will add another member in June, as redshirt freshman Sean Fogarty will uproot from his lifelong home of Savannah and make his way to Athens.
"I was at Savannah State, which is where I played this past year," Fogarty said in a telephone interview with UGASports.com. "Everyone's been good to me here, but I kind of just wanted to get away from home. Out of high school, I wasn't playing that heavily, and I didn't focus on my grades as much as I should have. I seized the opportunity, and I'm very thankful for that. I brought everything up, and I'm making great grades now. I'm doing well. I just felt like I needed something different. I needed a change, and I needed to get away from home. I sent out some tape and emails, and Georgia contacted me. I visited around to a couple of places, but I just felt like Georgia was where I needed to be. I think this opportunity was given to me for a reason."
For Fogarty, there's still a hurdle to overcome, but it won't deter his goal.
"If I don't get my waiver, I'll embrace whatever comes. I'll play scout team for a year and embrace it. We're trying to work the waiver out," Fogarty said. "There are some personal things, but it's not Savannah State. They've been good to me. It's just that it's hard being here for my whole life, so hopefully, the NCAA can find it in their hearts to make me eligible. I'd have three years if I get the waiver."
Meeting Georgia's staff has helped reassure his decision.
"It was a cool experience getting to meet them," said Fogarty, who played his high school ball at Benedictine. "Coach [Sam] Pittman said he's going to care for me the same as a walk-on as with a scholarship. He's going to treat me like one of his. They've been good to me. Coach [DJ] Looney, too. I'm glad they do what they do."
Now, Pittman and company will begin to plan for how to utilize Fogarty when he arrives, a topic that's already been up for discussion.
"I'm about 6-foot-3 and a half and about 305 pounds," Fogarty said. "Coach Pittman was talking to me at first we talked about being a center. He didn't realize how big I was until I got there, and he got to see it. Coach [Kirby] Smart said something on the interior."
Another help to the Bulldogs? Fogarty's longtime love of their program.
"I grew up loving Georgia," Fogarty said. "I've been to a lot of games, and my uncle has season tickets near the sky box area. We're really passionate about it, and I'd get mad when they lost. I think I was always jealous because I wanted to be a Bulldog and didn't have the opportunity."
That fandom did not cloud his judgment on the decision, however.
"It means everything," Fogarty said. "Playing at this level is something I've always dreamed of. I didn't just pick it because it's Georgia, though. I feel like I can reach my full potential under Coach Pittman and Coach Smart."