Hamstring holds up for McBride as Vidalia claims Class AA 4X100 title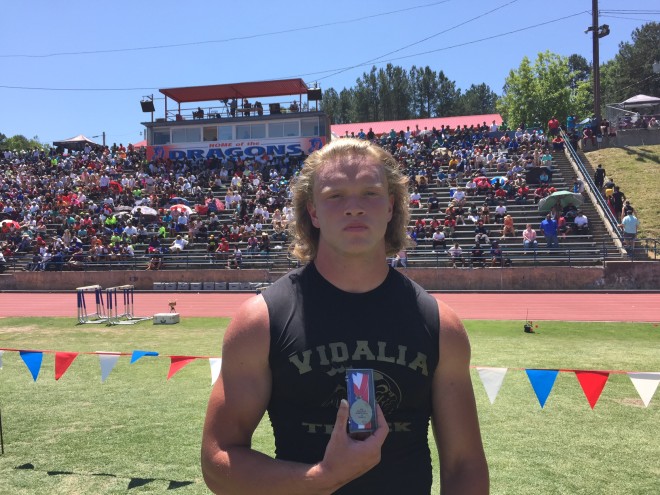 JEFFERSON, Ga. - Five-star Nate McBride showed Saturday he's not just a five-star performer on the football field but he resembles one in track as well after anchoring the final leg for Vidalia High in the Class AA finals of the 4X100 relay.
"I was scared the whole way," said McBride, who failed to qualify for any of the individual races after tweaking his hamstring in the finals of 200 meters at the Region 2-AA championship.
"But when I got the baton, I knew I had to kick it in because Benedictine was right here," McBride said. "At that point I just hoped the good Lord will give me a break on this one.
He did.
Not only did McBride's hamstring hold up, but he enabled the Indians – which featured McBride, Deon Green, Karen McKinley and Keshawn Williams - to post a winning time of 42.09, just ahead of second-place East Laurens at 42.46.
"It's amazing because last year we were either No. 2 or No. 2 coming in and messed up our handoff on the last leg and almost did it again," said McBride, who anchored the final leg weighing 228 pounds. "I had to slow down to make sure we didn't, but this means the world to us."
McBride admitted he was disappointed the hamstring injury it region kept him from qualifying for the individual event finals.
But wasn't complaining.
"It was, but it also taught me more about the team. It's more than just myself," McBride said. "It all worked out in the end."