Recruiting Roundup: Satellite Camps, Top Stories, and More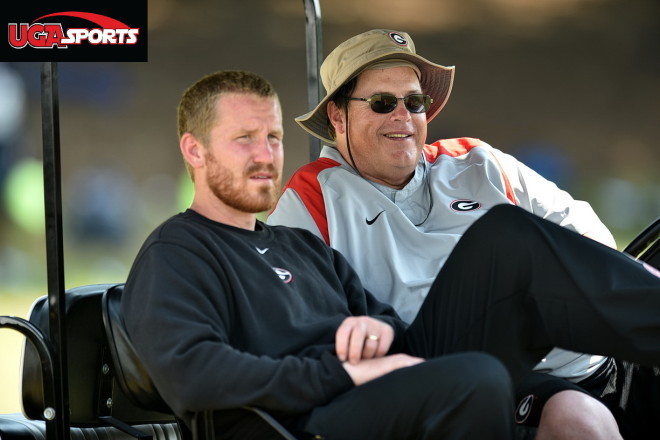 Between satellite camps, 7-on-7 tournaments, one day showcases, commitments, and the Rivals 5-Star and Underclassmen weekend in Atlanta, June has already proven to be a busy month - for us, for Georgia, and for recruiting in general.
It's a lot to distill down but bear with me, as we dive into a special edition of the Roundup.
Satellite Camps: Friend, Foe, or Somewhere in Between?
I can't say that I think Georgia coaches got much out of the satellite camp experience, other than the opportunity to get used to the experience of doing what they've long done on campus over the years at a new location. Sure, it was good for the still somewhat new group of coaches to get in front of a number of players, but, from what I saw of the camps and the firsthand accounts, it seemed to be what I'd long suspected it might be - kind of disorganized, bereft of top end talent, and not that impactful in the grand scheme. How many offers went out to satellite camp participants? I can't recall a single one from the Bulldogs, and it looks as if they may only have one in mind.
Meanwhile, their own 7-on-7's and offensive/defensive line camp in Athens produced a number of scholarship offers, which is pretty much par for the course.
Maybe next year will be a different story, but the whole experience was a push, at best. No one really won, and no one was worse for the wear. Do I think the time could have been better spent hosting prospects on campus? You bet.
I'm interested to see what changes we'll see next year from both an NCAA-level and individual school level. I certainly don't see everyone maintaining the course for something that produced a negligible amount of results.
Touching on the top stories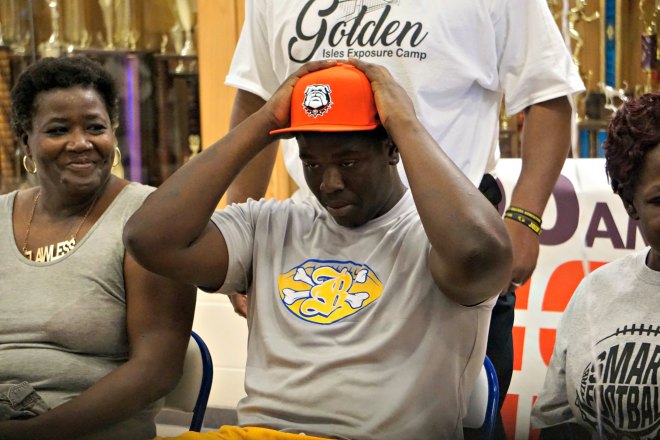 Demery commits
Looking back on it all, I don't know that a bigger story came out of the last two weeks than Georgia's pickup of D'Antne Demery. In the shuffle of camps, visits, and such, it seemed to get a bit lost in the fold, and he's certainly not as well known of a commodity as the metro-area names we've become accustomed to hearing on a daily basis.
Still, for my money, this was the best offensive line commitment to pledge to the Dawgs since Ben Cleveland all the way back in Dawg Night of 2014.
When I first saw Demery, some two years ago, he carried a great deal of bad weight and looked like he might end up as a big ball of unrealized potential. On Wednesday in Brunswick, I saw a young man who's transformed his body and began to take his future seriously by putting in the work necessary to achieve it. If that light switch has truly flipped, I think Georgia may well have picked up their left tackle of the future.
In Demery, I believe Georgia was able to add a player with the kind of ceiling that turns the heads of NFL general managers. He's that large and powerful, and, if he's able to put all the pieces together in Athens, it won't surprise to hear his name called early in a future draft.
That may seem drastic or even presumptuous, but guys like Demery are that few and far between.
Bulldogs in the driver's seat for nation's best of 2018
Georgia received more good news this week in the battle for the state's top player for 2018, Trevor Lawrence, with the five-star quarterback declaring that it was the Bulldogs who are recruiting him the hardest. With questions lingering at Tennessee, Clemson bringing in two quarterbacks for 2017, and a Florida visit planned but not fully fleshed out, it appears the Bulldogs have put themselves atop the list for the time being.
If it ends up playing out the nation's best rising junior signal caller pledges his services to the red and black, you have to think Jim Chaney, who played a large role in securing the services of Jake Fromm for 2017, is emerging as the most important of the hires for the Bulldogs in the early goings.
Also, what would all of this mean for recruiting going forward?
Seems to me that quarterback room would be hard for playmakers - both in-state and elsewhere - to deny.
Top offensive tackle: 'Go Dawgs'
A surprise visit early last week from the No. 5 rising senior in the nation, Isaiah Wilson, seems to have went well on both ends, with the star playing coy on where the Bulldogs stand post-visit.
Do I like Georgia's chances more than I did prior to the trip?
Not particularly.
The situation reminds me somewhat of Rashan Gary from last year, as Michigan would still be my odds-on favorite, but that does not mean it was a moot trip for the Bulldogs.
If Wilson still joins the talented contingent he had originally planned to come with later in the summer for a return trip to Athens and follows through on his official visit plans, Georgia will have to be thinking, 'Why not us?'
I'll reserve judgement until it happens, but if all of those pieces fall into place, I might be willing to rework my mindset when it comes to Georgia's shot with the nation's top offensive lineman.
A full week of five-star action
Georgia managed to host both Lawrence and Wilson this week, but we would be remiss to not touch on Auburn commit Calvin Ashley, another five-star tackle who made his way to Athens for a visit, or the face time they put in at the KIPP Academy satellite camp with Westlake's AJ Terrell.
With coaches looking as if they have moved on from some high profile names, such as recent FSU commits Stanford Samuels and Robert Cooper or new Iowa State commit Caleb Chandler, you start to get the feeling that the top rated guys may be who they have in mind to fill out the class.
If that's the case, it could spell a very successful end to the cycle.
If they miss, it could cost them dearly.
Time will tell.
Reviewing the Commits
We got to watch well over half of Georgia's 2017 class in live action over the last couple weeks. Here's how they performed.
Demery's work in Athens reassured my notions from above - he's a big, physical tackle with the length to hold pass rushers at bay and a base to stonewall the big men. I think he can flourish under Sam Pittman and may well end up being the most important get of the class of 2017.
Fromm was deadly accurate during 7-on-7s in Athens, and he carried that performance over to the recent Corky Kell tournament in Roswell. While I like his ability to go downfield, I love his decisiveness in the short field and ability to throw his receivers open. The Aaron Murray comparisons are definitely not misplaced.
No single committed player boosted his stock in my eyes more than Landers. He's a very legitimate 6-foot-3, and that creates a ton of problems for smaller defensive backs. Pair that with usable speed and an unwillingness to cede any ball thrown his way, and I'm a believer. I know Sam Pittman has made a push to get the offensive line larger, but I'm intrigued by the fact that James Coley is taking a somewhat similar approach in the receiver corps.
Johnson did not have his best showing in Atlanta, and he was the first one to beat himself up for it. That he's such a critic of his own game and so unsatisfied when he drops a rep shows an awareness and drive that may very well allow him to be great at the next level. I'm still a fan of his game, but he knows he's got work to do to be at his peak performance. That's going to include continuing to shed weight.
When I saw Jenkins was camping in Athens, I had hoped to get some clarity as to the questions that have surrounded him. Is he an SEC caliber guy? What does he bring to the field? We knew he could run, based on his performance at the state track meet, but there were bigger concerns when it came to his overall game. Instead, the heat took its toll, and he was limited in his performance. I'm rooting for Jenkins, as he's a fine young man, but it appears we may have to wait until the fall to figure out where his game is at the moment.
Poole was his typical self in Athens, as he broke up passes and handled man coverage easily, and he's starting to remind me of Rico McGraw in some regards. He may not necessarily be the most electric player on the field or the guy who catches your eye first, but he looks as if he'll be an invaluable part of a solid defensive backfield.
Hunter's rise continues in the ranks, and he continues to back it up with consistent play. Where he finds himself playing at the collegiate level is the next real question that will determine what we can expect from the four-star linebacker. He's got pass rush skills, can certainly play in the middle, and may even be quick enough to drop into some nickel. Either way, I think he's a defensive weapon with a multitude of usable tools. It's going to be fun to watch him flesh them out.
Dixon was quite rangy in Atlanta, and he looks like he's going to be to play a role similar to Roquan Smith when he gets to Athens. He's got similar size and speed, but he's also got the know how and similar football instincts. Does he fit what Smart has traditionally had at linebacker during his Alabama days? No, certainly not. He's not the big body of a Courtney Upshaw or Dont'a Hightower, but he's going to be a pest for opposing offenses to deal with and should free up teammates to make plays while teams work to contain him.