Post-spring position breakdown: RB - Chubb continues to defy the odds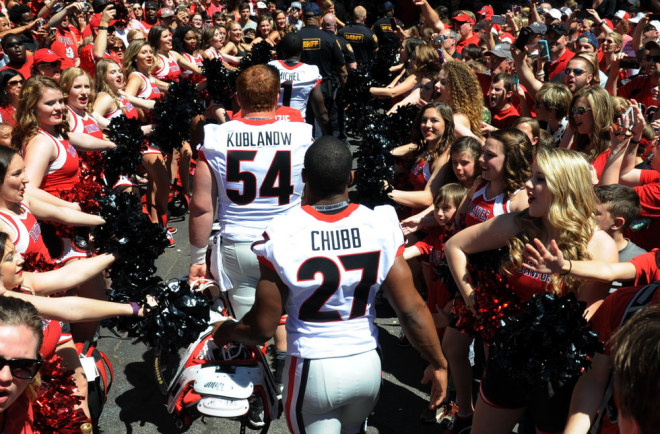 If Kirby Smart had a dime for every time he's been asked about Nick Chubb since becoming Georgia's football coach he probably wouldn't need the school to pay his salary.
It's a natural curiosity.
This isn't some run-of-the-mill running back we're talking about here.
When Chubb tore up his knee last October at Tennessee, it was one of those injuries – especially after seeing the replay – that just tugged at your heart.
The human body wasn't supposed to contort the way we saw Chubb's knee twist before falling to the turf there in Knoxville.
I'll be honest. After watching it happen in person, part of me wondered if Chubb would ever play again, and if he did, would he resemble the same back folks were touting as a possible Heisman Trophy candidate before the season began.
While the latter is a question that still needs to be answered, there no longer seems any doubt that Chubb will be back on the field – in fact, it would seem sooner rather than later.
It's been a long time – and this is not hyperbole – where I've seen an athlete show as much determination and will to overcome even the steepest of obstacles as Chubb.
He's a different breed.
So, although we probably won't hear one way or the other from Smart (no doubt he'll want to keep North Carolina guessing) until Game Day against the Tar Heels, it would seem Chubb is on track to be ready.
If so, what a story and what a boost to the Bulldogs it will be.
Georgia is blessed to have a back the caliber of Sony Michel, something Bulldog fans saw last year after the Miami native rushed for 1,161 yards and eight touchdown, and along with Brendan Douglas, Tae Crowder, converted wide receiver Shaq Wilson, freshman Elijah Holyfield and freshman Brian Herrien, depth at the position doesn't seem quite as bad as Smart initially feared.
But assuming Chubb comes back, Georgia's backfield becomes special. Smart and Bulldog fans everywhere have their fingers crossed that will be the case.
Starters
• Nick Chubb (5-10, 225, Jr.): No, we don't know for sure when Chubb will be cleared to return, but the signs are certainly pointing in a positive direction. He ran run-polish drills with the other backs, and recently ditched the brace he'd been wearing over his injured knee. Georgia will continue to be very cautious with Chubb heading into fall camp, but he's a lot further along than I thought he'd be. Anything he's able to do will no longer come as a surprise.
• Sony Michel (5-11, 215, Jr.): Michel was spectacular last fall, rushing 219 times for 1,161 yards and eight touchdowns while catching 26 passes for 270 yards and three scores. Michel certainly disproved the notion some had that he was not an every-down back and is primed to have another huge impact this fall.
Returning Letterman
• Brendan Douglas (5-11, 225, Sr.): Douglas didn't have quite the opportunities he did his first two years but remained a very valuable member of the Bulldog backfield and will be again this fall. Douglas was limited after off-season wrist surgery but will be good to go for the start of fall camp.
• Shaquery Wilson (6-1, 200): Wilson was moved over from wide receiver in the spring and that's apparently where he's going to stay. He showed some good moves in the G-Day game, scoring a touchdown.
Redshirt Freshman
• Tae Crowder (6-3, 220): Crowder enjoyed an outstanding spring as coaches made sure to give him plenty of work with Chubb and Douglas sidelined and he didn't disappoint. According to Smart, Crowder made some nice strides and is someone who can now be depended on if his number is called. He scored a pair of touchdowns in April's G-Day game.
True Freshmen
• Elijah Holyfield: (5-11, 212, Fr.); The former four-star prospect was the second-ranked running back in the country last year by Rivals and figures to make a big impact over the course of his career. How much he plays as a true freshman will depend on the health of Chubb, but coaches love the freshman's work ethic and believe he can play a key role this fall.
• Brian Herrien (6-1, 205, Fr.): Herrien was a late edition to the Bulldogs after getting his academics in order. He would appear to be a great find. Herrien led all of Class AAAAA in rushing with over 1,900 yards and will get an early look in camp to see exactly what he can do.
Foi�