Smart not feeling any better about lack of size, depth on the DL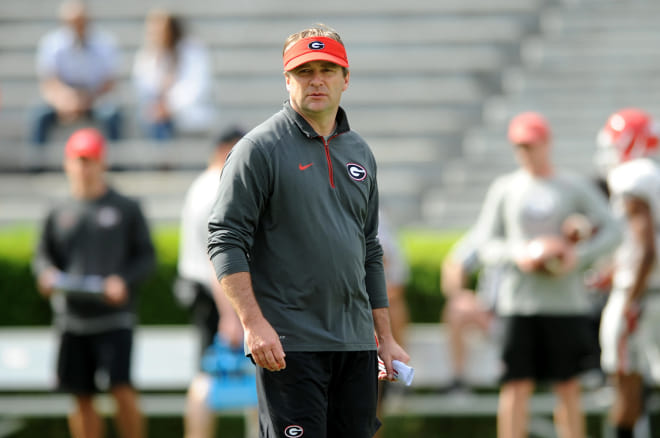 Until recruiting ultimately takes care of the problem, Kirby Smart will continue to worry about the size of his defensive line.
Granted, a lot of that concern has to do with where he's coming from.
At Alabama, the Crimson Tide would roll out stacks of 300-pounders the way Dreamland BBQ rolls out racks of giant ribs. In other words, there was no shortage.
That's not yet the case in Athens.
"I was worried about it before but I'm really worried about it now," Smart said recently. "We've got kids coming in that are bigger kids, but to be honest that's where we're lacking."
Yes, right now, that's no doubt the case.
As we speak – on campus today – the Bulldogs only have four defensive linemen who check in at over 300 pounds – Trenton Thompson, John Atkins, DaQuan Hawkins and Julian Rochester, whose status for the opener remain unclear following his arrest in April on a felony charge of having a weapon on campus (a bb gun) and destruction of property."
While that number will increase by two when Michail Carter and Tyler Clark arrive with the rest of Georgia's freshman class on June 1, that's not going to do much to alleviate Smart's fears until the Bulldogs can add more depth via recruiting.
"Trenton Thompson, and people that size, John Atkins, that's where we've got to get some more depth and we're hoping those three guys coming in can help us there," Smart said. "Our concern is how are we going to hold up at the point with big people?"
The Bulldogs do have other pieces, including Michael Barnett, Justin Young and Jonathan Ledbetter, although the latter won't be available for North Carolina following his one-game suspension for having a fake ID.
Incoming freshman David Marshall could help at end, although he only weighs 270 pounds and may be better suited for outside linebacker after telling UGASports.com that Kevin Sherrer was going to be his position coach.
The Bulldogs could also have used Chauncey Rivers, but that's no longer an option following his third arrest for marijuana.
"Chauncey was more a pass rusher," Smart said. "We hate losing a pass rusher, but when you make poor decisions you can't help that."