Specialist commits to the Dawgs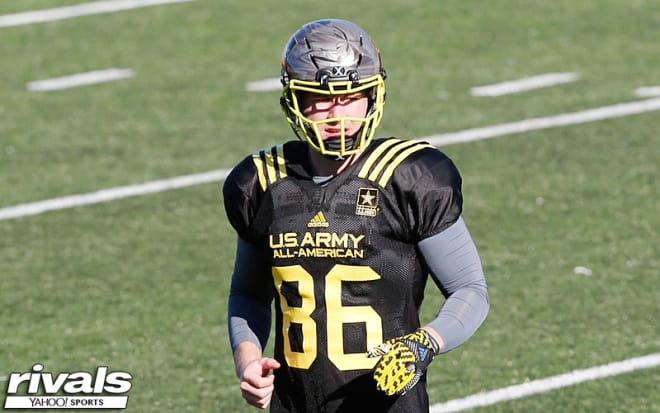 As predicted, the Georgia Bulldogs on Thursday night picked up the commitment from Army All-American punter Marshall Long of South Rowan High in China Grove, N.C..
"I've been in contact with Georgia for a long time," Long told UGASports.com after committing. "They never knew if they were going to offer a punter, but they said they might take someone to walk on. Finally, Coach [Kirby] Smart called me and offered a scholarship two nights ago. Georgia was my number one. It was an easy decision. I'm done. It's over. I believe there's not a school that could offer me that I could even think about taking over Georgia."
And just what made it so easy?
"I remember going to Georgia during my visit, the Georgia Southern game," Long said. "It was just one of my favorite games. I know the coaching staff has changed a little bit since then. After being recruited by Virginia Tech, I got to know Coach (Shane) Beamer there. Now, he's at Georgia, and it seemed right. I just loved it."
When it comes to his rationale for what made Georgia right, though, Long is at a loss for words.
"It's really hard to explain," Long said. "I saw myself there, if that makes any sense. It was just the atmosphere and the fans. It was awesome looking up and seeing 100,000 people in the stands. They have a huge, unbelievable fan base, and that made me like Georgia. It was just their history, as a huge SEC school and a great football program."
Credit the new staff with a consistent and continued effort for the 6-foot-3, 225 pound specialist, though.
"When they told me they didn't know if they were going to scholarship a guy, it was pretty hectic right then," Long said. "I found that out four days after Coach (Mark) Richt left, and one of the coaches came in to see me. He pretty much told me and let me know everything, and I had to understand. I had to realize it was pretty crazy there at the moment, and it did change a lot of things. They let me know they were still interested, but they weren't just going to take a walk on me. They still talked to me. They took time, made sure I was okay, and made sure I understood everything."
Smart took the word of one of his assistants on the final call of the offer.
"What he said was that they'd lost Collin Barber, who just graduated," Long said. "Brice Ramsey finished the season out punting, but he said he wanted him to play quarterback a little bit. He'd seen my tapes, and Coach [Shane] Beamer had talked to him about me. I guess he just felt good about it. I was glad they finally did pull the trigger."
Even with the Bulldogs high on the list, it was not an immediate commitment.
"I wasn't positive," Long said. "That's a big decision, and I still had to think about it. Virginia Tech was good to me, and they did nothing wrong. I loved it there, but Georgia is the place for me. It wasn't that hard to make the decision, but I still had to think about it. I had to weight out the pros and cons, but it was a good decision."
Now, the Bulldogs will add a player who showed his own consistency during his senior year.
"This season, I punted a lot," Long said. "I punted 59 times with a 46.7 yard average. I just punted, though. Our kicker is going to play college ball. He did the job, and he did it well."
Despite the fact that Georgia needs a kicker as well, don't expect to see Long lining up for many field goals.
"I don't do it," Long said. "It's tough."
Off the field, he believes fans will be getting someone they can cheer on for his efforts between the hedges and elsewhere.

"I'm a people person," Long said. "I talk to everyone, and I enjoy seeing the fans. I'm a hard worker, too. That's what got me here, and I'm going to give everything I've got, on and off the field."
As for his words to the Bulldog Nation, Long kept it short and sweet.

"I'm ready to be there, and I can't wait for a great season," Long said.